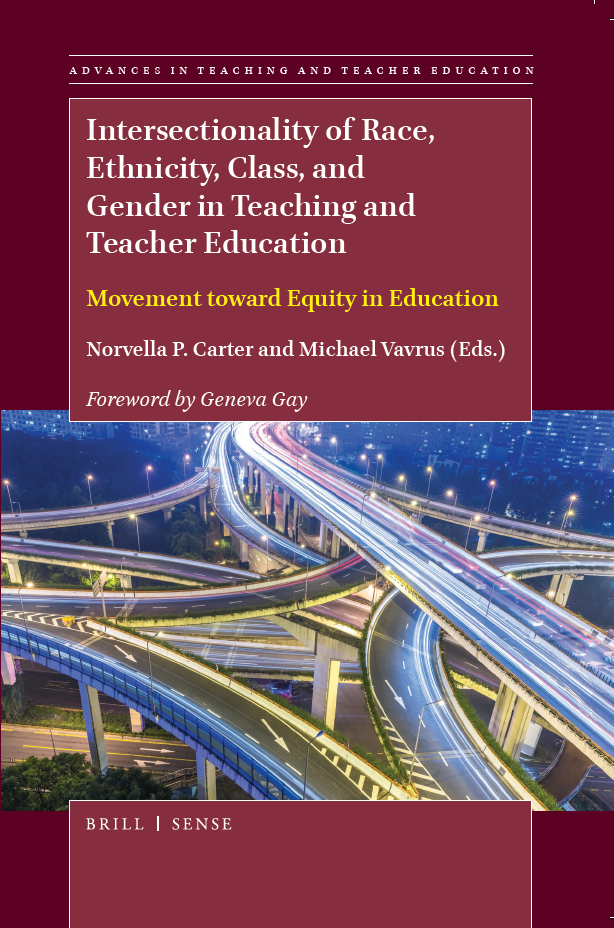 Intersectionality of Race, Ethnicity, Class, and Gender in Teaching and Teacher Education brings together scholarship that employs an intersectionality approach to conditions that affect public school children, teachers, and teacher educators. Chapter authors use intersectionality to examine group identities not only for their differences and experiences of oppression, but also for differences within groups that contribute to conflicts among groups. This collection moves beyond single dimension conceptions that undermines legal thinking, disciplinary knowledge, and social justice. Intersectionality in this collection helps complicate static notions of race, ethnicity, class, and gender in education. Hence, this book stands as an addition to research on educational equity in relation to institutional systems of power and privilege.
Brill|Sense Publishers, Leiden, The Netherlands
DIVERSITY AND EDUCATION: A CRITICAL MULTICULTURAL APPROACH
In his new book, Michael Vavrus helps readers better understand why issues of diversity and difference are so highly contested in the United States and across the globe. Vavrus incorporates specific education examples throughout the text to examine six contested areas: race and ethnicity; socioeconomic class and culture; multicultural and ethnic studies; language; religion; and sexuality and gender. In each of these areas, the author explores how contrasting worldviews found in social conservatism, liberal multiculturalism, and critical multiculturalism influence our understandings about difference and diversity and the education policies we develop as a result. Diversity and Education is designed to help educators move beyond the "how can they believe that?" knee-jerk reaction toward a more informed, strategic understanding of belief systems and political affiliations.
"Diversity and Education can not only help us have conversations about racism, institutionalized oppression, and cultural fear, it can also offer an intervention that can move readers towards a deeper critical consciousness about diversity and multicultural education in their own lives."
—From the Foreword by Wayne Au, associate professor at the University of Washington, Bothell, and an editor for Rethinking Schools
"Few education scholars have offered as potent and cogent a political and economic analysis of multicultural education and diversity as Professor Michael Vavrus has in his new book. His critique of neoliberalism via critical pedagogy and his advocacy of social justice education are timely and praiseworthy."
—Ramin Farahmandpur, professor, Graduate School of Education, Portland State University
"Diversity and Education is a must-read for anyone concerned about why so many policies claiming to 'help' diverse students fail, and what alternatives exist. Vavrus clearly believes in the power of teachers who are well-educated critical thinkers. In this lucid and compelling text, he skillfully applies a highly useful framework to unpack historical and contemporary debates about core concepts underlying multiple struggles for education and rights."
—Christine Sleeter, professor emerita, California State University, Monterey Bay
"Dr. Vavrus has put together a phenomenal book that is much needed in the field. He really inspires, challenges and informs multicultural educators and practitioners."
—Eddie Moore, Jr., executive director, The Privilege Institute
"Vavrus resists simple approaches or fixes to complex problems; critically unpacks diversity issues; and offers an alternative vision. He beckons his audience (K-12 educators, school administrators, teacher educators, parents, and communities) to work in solidarity and hope towards improving the lives of children." – Teachers College Record
TRANSFORMING THE MULTICULTURAL EDUCATION OF TEACHERS:
THEORY, RESEARCH, AND PRACTICE
Recognizing the responsibility institutions have to prepare teachers for today's diverse classrooms, Vavrus shows us how to incorporate transformative multicultural education into teacher education curriculum, pedagogy, and evaluation. Placing race, racism, anti-racism, and democracy at the center of his analyses and recommendations, this volume provides:
Concrete structural suggestions for including transformative multicultural education in higher education and K–12 in-service programs.

A multicultural critique of new NCATE accreditation standards for teacher education programs that offers re-conceptualized assessment procedures.

The historical roots of transformative multicultural education that incorporates issues of white privilege and racialized color-blindness, anti-racist pedagogy, racial identity among teachers, and "critical race theory."

A discussion of globalization that emphasizes its contemporary economic effects on social and educational inequities.
"Michael Vavrus provides theoretical perspectives and practical considerations to guide teacher education programs in transforming how they educate teachers. In these pages, multicultural education becomes a lived experience rather than simply an unrealized ideal."
—Sonia Nieto, School of Education, University of Massachusetts, Amherst
"This is theory with heart and broad social vision. Teacher educators who care about equity and justice should pay close attention to Vavrus's important insights."
—Bill Bigelow, co-editor of Rethinking Globalization: Teaching for Justice in an Unjust World
"Michael Vavrus has created an essential guide for any educator or policymaker seeking to transform traditional paradigms for teacher preparation and multicultural education."
—Diana Lam, Superintendent, Providence (RI) Public School District
"Vavrus not only knows what is necessary to make multicultural education a reality in our schools, but he offers insights into ways of deepening multicultural education's project of social justice . . . an indispensable book"
—Peter McLaren, Graduate School of Education and Information Studies, University of California, Los Angeles